Enjoy Defying the Laws of Gravity with Our Magnificent Levitation Bonsai Pot.
It is not just a flower pot or an ordinary ornament, this amazing levitating pot is design to impress all who see it for the first time.  Aesthetically pleasing, this item will fit perfectly as the centerpiece in any room in your home.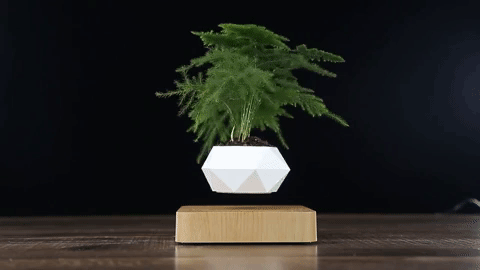 It can also be the perfect outdoor accessory to your deck or the ideal centerpiece to your coffee table to wow your friends, family and guests.
At the simple touch of a button, watch your bonsai plant float in mid air with our intricately crafted magnetic technology that requires NO batteries.
This Magnificent Levitation Bonsai Pot is the perfect gift for plant lovers and design lovers everywhere. Be one of the first to own one and be the envy of all your friends and co-workers!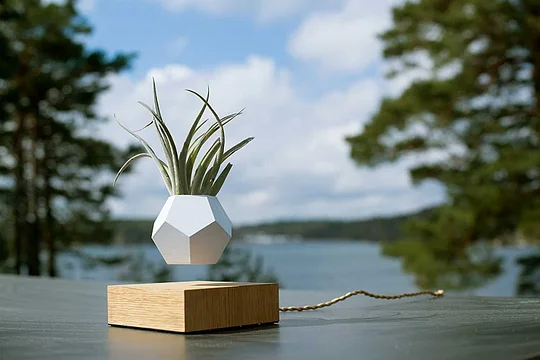 Features
Lovely appearance: unique creative design, flower pots look like floating stars, very fashionable, very cute gifts suitable for friends and lovers.
Fun decoration: gardening method, suitable for decorating gardens, tables, bookshelves, dining tables, living rooms, main halls and any place.
Lightweight: it is made of resin and natural materials, environmentally friendly and safe. Lightweight and easy to remove.
With automatic induction and rotation technology, you can rotate the flowerpot at any time. This is definitely a novel and interesting gift.
Specifications

Bearing weight: 300g miniature plants
Suspension distance: 20mm
Base size: 13.4*13.4*2.8cm/5.3*5.3*1.1inch
Flower pot size: 9*9*5cm/3.5*3.5*2inch
Packing size: 17.8*17.8*12.4cm/7*7*4.9inch
Power supply: 12V/, 1A
Weight: 1350g/set

Package List

Base * 1
flowerpot * 1
power cord * 1
English manual * 1